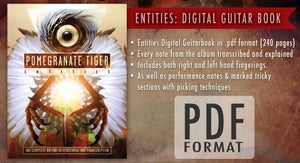 $

20.00
AVAILABLE NOW ONLY AT SHEET HAPPENS PUBLISHING
Cope and Paste the link below in your browser to view.
http://www.sheethappenspublishing.com/product-487/pomegranate-tiger-entities-|-digital-guitarbook
Entities Digital Guitar Tab book in .pdf format (240 pages)
Every note from the album transcribed and explained
Includes both right and left hand fingerings
As well as performance notes & marked tricky sections with picking techniques.
IT SAYS COMING SOON BUT IT IS AVAILABLE NOW. COPY & PASTE THE LINK ABOVE IN YOUR BROWSER TO VIEW.