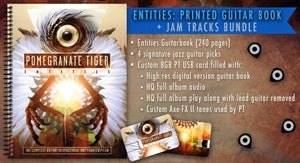 $

60.00
AVAILABLE NOW ONLY AT SHEET HAPPENS PUBLISHING
Copy & Paste the link below in your browser to view.
http://www.sheethappenspublishing.com/product-488/pomegranate-tiger-entities-|-printed-guitarbook-+-jam-tracks-bundle
This bundle comes with:
- Entities Guitarbook (240 pages)
- 4 signature jazz guitar picks
- Custom 8GB PT USB card filled with:
- high res digital version guitar book
- HQ full album audio
- HQ full album play along with lead guitar removed
- Custom Axe-FX II tones used by PT
IT SAYS COMING SOON BUT IT IS AVAILABLE NOW. COPY & PASTE THE LINK ABOVE IN YOUR BROWSER TO VIEW.